NETRHYTHMS (www.netrhythms.co.uk )

It's but a few short months (four, to be exact) since I last sang the praises of this exceptional Buckinghamshire-based singer-songwriter, on the occasion of reviewing his fourth CD (and his best to date, in my opinion) Life As Usual. And now, in a month or so's time, he's already set to launch his fifth, Ordinary Heroes, on an unsuspecting world. Well hopefully not entirely unsuspecting, for many of you will have read on this site the reviews of his first four CDs, and (I trust) some of you will by now have bought some or all of them. So this review will of necessity be written partly from the point of view of someone who already really rates George and his work very highly, although it will inevitably also need to consider the first-timer who's never come across George before. That latter point is, I believe, doubly crucial to one's appreciation of this particular new release, for it marks an important stage in George's career.

It will be his first release on a label with "Proper" promotional backing (it's Robb Johnson's Irregular imprint), so he's deliberately made it with a wider potential audience in mind. I'll emphasise that this statement of intent, to enable that wider audience to "find a way in", has entailed no dumbing-down or artistic compromise, but it has meant that within those self-imposed parameters George has gone all out for optimum accessibility. In other words, firstly to ensure a maximum variety and listenability within the songs on offer, in terms both of subject matter and treatment and of interest within the actual musical settings. So, aside from a very few tracks on which George either performs alone or with absolutely minimal backing, Ordinary Heroes will not sound quite like the George we know (and love) from those earlier CDs. Basically, George has been granted leave to take the concept of employing other musicians just that bit further than on the limited experiments of Life As Usual. Here he's been blessed with the talents of Robb's "trio mates" Saskia Tomkins and Miranda Sykes, on violin, viola and double-bass and backing vocals between them; they crop up on many of the tracks, and their contributions lend a classy, polished, almost classic-chansonnier flavour to the proceedings, with voices that as often as not sit surprisingly well with George's own pleasingly idiosyncratic, highly individual delivery. Also appearing are Nicole Murray and John Thompson (aka. Cloudstreet) and singer Moira Craig, together with a bunch of folkie friends who'd previously guested on Life As Usual - Anahata (cello, concertina, melodeon) and singers Johnny Collins, Graeme Knights and John Breeze. What a team!

By and large, the arrangements (which thankfully are not over-the-top) work nicely in the service of the songs and the various contributions are managed with thoughtfulness, taste and sensitivity, but one or two isolated moments (incidental effects) are matters of minor detail which sound fine first time but don't stand up as well to repeated listening (rather like a joke when you know the punch-line that's coming). I'd emphasise that these are points which may well not occur to those coming to George's music for the first time (let's be honest, not every listener readily responds to just one man and a guitar!), and which are more of concern to those of us who already know George's earlier recordings. This isn't quite "George on holiday", taking a childlike delight in being let loose in a big studio, but there's a gleeful abandon with which he revisits (and pretty effectively too) seven songs from his existing recorded output which have hitherto been much requested and which are among those most likely to succeed as a calling-card to that wider musical public out there. Two of these have already been covered by "star" performers - Empty-Handed by Andy Irvine and The Flowers And The Guns by Vin Garbutt - whereas the others contain some of George's most enduring writing. The poignant nostalgia of Circles In The Air is perfectly conveyed by the song's revised pacing, while on the other hand I'm not entirely convinced (yet) by the ramshackle countryish back-porch syncopated swing arrangement that's meant to convey folk club conviviality on Friends Like These, although it has its own internal logic and is great fun taken on its own terms.

The brand-new songs on this CD contain several real gems - the jauntily sinister Bite Of The Underdog, the lovely - and welcomingly not over-sentimentalised - memoir Christmas Day, the philosophical Put In The Hours and the movingly simple love song/prayer Ending Of The Day that so aptly closes the CD with its lovingly crafted Vaughan Williams/Tallis-like melody line. I've more than once ventured my opinion that the high standard of George's songwriting already assures it a place of honour within the contemporary folk tradition - no idle claim, you'll feel, if you take my recommendation and treat yourself to one (or better still, all!) of George's CDs. If you're new to George, then Ordinary Heroes might well be the one to start with, although I feel sure you'll then immediately want to backtrack to the earlier ones to discover the pure, unadulterated George, which you can then do with ease and impunity!
David Kidman


FOLK ROUNDABOUT
Who is this guy we're hearing so much about lately?... By now, this singer/ songwriter is veteran of five albums, this - his latest - gets big-league treatment (in terms of 'Proper' promotional backing) by being released on Robb Johnson's label. The purpose being to make George's music accessible to a wider audience (six of the thirteen songs here are in fact re-recordings, in new arrangements); and why not? for George's songs are gaining wide currency through being covered by other performers (two songs on this CD are currently in the repertoires of Andy lrvine and Vin Garbutt respectively). What's special about Gearge's songwriting then? Well, his stock-in-trade is the kind of quality songsmithery that everyone can relate to. Politically anything but naive, and shot through with conscience, yet George is concerned with lasting values rather than parading activism, and he takes genuine delight in simple pleasures. His central thesis is the celebration of the contribution of the ordinary person, who is every bit as much a hero as those more publicly heralded.

When reviewing George's earlier albums 1 dubbed his work 'songs for tomorrow's tradition'; this applies equally to Ordinary Heroes, where his stylish lyrics are informed and infused with the idioms of everyday folk music, set to strong melodic hooks with unexpectedly catchy choruses (often equally wordy and worthy, but fun to learn and sing). He runs the gamut of subject matter, encompassing the calling-on song (Friends Like These), unashamed poignant nostalgia (Circles In The Air, Christmas Day), cynical little rails at the system (Bite Of The Underdog), and remembrance from the depths of human suffering (Langemarck), ending up with a love song and a prayer. The big difference from George's earlier albums is that he's been granted the use of backing musicians on the majority of the tracks (let's be honest, not every listener will readily respond to just one man and a guitar!), which gives a distinctive musical signature to complement his own voice and guitars. There's Saskia Tomkins and Miranda Sykes on violin, viola and double-bass and backing vocals between them, as well as Anahata (cello, concertina, melodeon), singers Johnny Collins, Graeme Knights, Moira Craig and John Breeze, and last but not least Nicole Murray and John Thompson (aka. the superb Cloudstreet). What a team - all being folks of integrity who readily endorse George's work.

There are already those of us who feel his songwriting belongs within the contemporary folk tradition alongside the likes of Graeme Miles, Keith Marsden, Jez Lowe, Stan Rogers and yes, the aforementioned Robb Johnson - no idle claim, you'll feel if you take my recommendation and treat yourself to one or all of George's CDs. If you're new to George, then Ordinary Heroes is the one to start with, though you'll want to backtrack immediately thereafter I'm sure.
David Kidman

TAPLAS

The fifth album from the prolific George Papavgeris finds him signed to Robb Johnson's Irregular label, which should see his fine observational writing finally reaching a wider audience. Those familiar with his work will recognise some of the material here, since songs such as Friends Like These, Vassiliki and Flowers and Guns are drawn from previous releases, but here they're given a new lease of life thanks to the contributions of the accompanying musicians that include Anahata (cello/concertina/melodeon), Saskia Tomkins (fiddle/viola) and Miranda Sykes (double bass).

It's George's stated intention that he wants to celebrate the lives of ordinary people (the heroes of the title) and the new material doesn't dissapoint in that respect. As usual, he manages to create vivid sketches that range from the gently nostalgic Without You (on Christmas Day) to the realities of modern life (Bite of the Underdog and Put in the Hours) and the frustrations of old age (Memories). These are songs that say as much about the writer as they do about his subject matter and George's warmth, humility, humour and sense of righteous indignation are all apparent on this fine album, which can only enhance the growing reputation of this fine songwriter.
Dave Haslam

UNICORN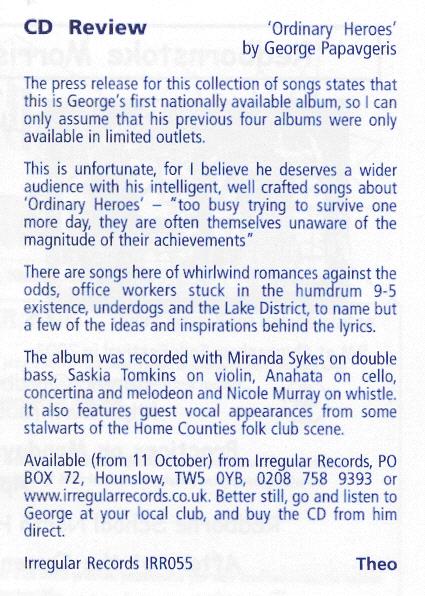 SHIRE FOLK

George Papavgeris is the latest artist from Irregular Records to offer us the benefit of his songwriting skills. His singer guitarist style is augmented by fine accompaniment from fiddle, double bass, cello, melodeon and concertina
which brings some lightness and lift to an otherwise rather serious collection of social commentary in song to familiar or near-familiar tunes. 'Bite of the Underdog' is a rail at the powers that be, but other offerings such as 'Memory' and 'Circles in the Air'are more personal and reflective. The theme of celebrating the achievements of those in adversity fits the comradely feel of this album well, and many well known singers are now performing these songs.
Chris Mills

FOLKWORLD (www.folkworld.de )

George Papavgeris started visiting folkclubs in England in 1973 enjoying the music he had to miss these meeting because of work abroad of the country. He came back to the clubs in 2000 and has been a regular singer in several of them. In these past four years he has recorded a few cd's on a private label and now his first cd on the irregular label will be issued in October. He has written so many songs in the past years who have been sung by artists such as Roy Bailey, Vin Garbutt and Andy Irvine. The style of his music is close to the English folksingers like the earlier mentioned Roy Bailey. Although a song like Vassiliki (one of my favourites on the cd) reminds me of the Canadian folkmusic, it are mostly English orientated songs. His bit heavy voice, has emotion and depth and a very own sound. He recorded thirteen songs , both new and re-recordings of his old works. Helped by the fine musicians Saskia Tomkins on violin, Anahata on Cello, Concertina and Melodeon, Nicole Murray on whistle and Miranda Sykes on double bass. Especially the violin is a strong addition to his music. Saskia has a way of playing that fits perfectly to the personal vocals of Papavgeris. She brings some sun in the sometimes bit sad atmosphere of the music. A remarkable cd this Ordinary heroes, which I enjoy a lot. Hard to explain what it is, as his voice might not be the technically most perfect one, it has soul. And that is exactly what folk songs like this need, singing straight out of the soul of the composer and singer.
Eelco Schilder

fROOTS

A man apparently out of a time machine, writing the sort of "contemporary" songs folk club audiences would have loved in the 1970s. Good ones actually, quite reminiscent of Bill Caddick's style, well sung and well accompanied by the likes of Miranda Sykes and Anahata. But it does sound anachronistic, as if written for an inward-looking audience that time forgot.
(George: Is this a way of saying "good songs that we don't like any more?" - I am honoured...)

KENTFOLK

George's self-penned songs evoke many images of love and war, family, life, friendship. In "Friends like these", you'll find yourself at your favourite singaround. The chorus of Juhnny Collins, John Breeze, Graeme Knights, Moira Craig and Cloudstreet adds depth and meaning. All of life is here: terrifying images of war in "Langemarck", a family Christmas touchingly portrayed in "Without You". "Bite of the Underdog" only needs your imagination. "The Flowers and the Guns" - who remembers the clip of film where flowers were put in gun barrels? God is lovingly mentioned in "Hole House"

Saskia Tomkins, Anahata & Miranda Sykes also play. The insert has background and lovely photos of everyone. Lyrics on website.

A very clever songwriter, George regards songs as gifts - he certainly has the gift of song.